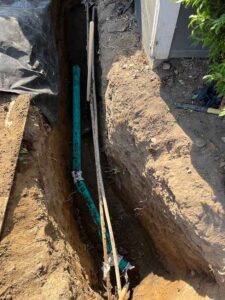 A trenchless repair procedure is a viable method of rebuilding existing pipes that does not require digging–and ultimately damaging–your property to access compromised pipe lines. Trenchless repair methods have many advantages over previously used techniques that require extensive digging that can result in environmental and safety hazards.
Clearline Sewer Repair offers trenchless pipe repair in Everett, WA, and the surrounding areas. Below are some of the many advantages of trenchless pipe repair.
Time Efficiency
Trenchless pipe lining is much better than digging and filling the existing pipes because it is a much faster process. It can be done in a single day, compared to the weeks-long process of digging and shoring for traditional trenching and pipelining methods.
Cost Effectiveness
The cost of trenchless sewer repair works out cheaper in comparison to traditional methods of pipelining because it is less labor-intensive. Varying factors, including the size of the local pipe network, the expertise required to perform the work, and the depth at which pipes need to be inspected or lined, determine how much trenchless repair will cost.
Minimally Invasive
Traditional digging and filling pipelines are quite intrusive and can leave homeowners with a mess on their property. Trenchless pipe replacement and repair procedures, in comparison, do not require digging. This allows homeowners the luxury of not having to pay for inadvertent damage caused by repair procedures.
Less Interruption
Because of the speed at which trenchless sewer replacement and repair procedures can be done, home and business owners won't have to put up with too much disruption to their daily routines. Trenchless repairs can be done with much more speed and efficiency than traditional repair methods.
No dig pipe repair procedures are fast, effective, and inexpensive ways for homeowners to have their pipe lines reinstated. Contact us today at Clearline Sewer Repair for more information!